RECONCILIATION is the change in the relationship with God for all born-again faithful believers. We are changed, not God. We humans are at enmity with God. We are in a state of opposition to God before we become Christians. In Christ and because of Christ, we enter a new permanent relationship with God. This new relationship is one of complete forgiveness and fellowship.
We shall never again return to the position of enmity or opposition with God. Our being RECONCILED to God is the work of our Lord and Savior Jesus Christ. It is because of His atoning work for us on the cross that we have forgiveness for our sins and are made righteous.
"8But God demonstrates His own love toward us, in that while we were still sinners, Christ died for us. 9Much more then, having now been justified by His blood, we SHALL BE SAVED from wrath through Him. 10For if when we were ENEMIES we were RECONCILED TO GOD through the death of His Son, much more, having been RECONCILED, we shall be saved by His life. 11And not only that, but we also rejoice in God through our Lord Jesus Christ, through whom we have now received the RECONCILIATION." (Rom, 5:8-11).
DEFINITION OF RECONCILE
(1) The English word "reconcile" means to cause to be friendly again; to bring back to harmony, make peace.
(2) The Greek words for reconciliation and their definition:
a) Katallasso, the verb, and katallage, the noun form. This word comes from kata which means "down," and allaso which means "to change" or "exchange." Thus, katallasso means "to change from enmity or disharmony to friendship and harmony," or "to reconcile" (Rom. 5:10; 2 Cor. 5:18-19).
b)Apokatallaso. This is a triple compound word (adds the preposition apo, "from,"). It does not occur in earlier Greek and seems to be used by Paul to express the idea of the completeness of reconciliation (Eph. 2:16; Col. 1:20-21). We can properly translate it "to reconcile completely."
Each of these Greek words primarily referred to a one-way kind of reconciliation, one accomplished by one person. This is important because the Greeks had a word, diallasso, that referred to a two-way or mutual reconciliation—one dependent upon the work of both parties. Diallasso "denotes a mutual concession after mutual hostility, an idea absent from katall-." Though katallasso could be used of a reconciliation between people (1 Cor. 7:11), the exclusive choice of the katalasso family of words for the reconciliation of the sinner stresses that salvation is totally the work of God that man may either accept by faith or reject, but either way, salvation is a work not partly of man and partly of God as it might occur between people, but totally, 100%, a work accomplished by God through His Son, the Lord Jesus (2 Cor. 5:17-19;Rom. 5:11).
(3) The concept of reconciliation is, of course, not limited to the word "reconcile." When Scripture speaks of "peace with God" (Rom. 5:1), of Christ as "our peace" (Eph. 2:14), and of His work of "establishing peace" (Eph. 2:15-17), this is reconciliation, the work of God in Christ to remove the enmity and alienation that separate God and man (Rom. 5:1-11).
(4) Doctrinal Definition: In short, reconciliation is the whole work of God in Christ by which man is brought from the place of enmity to harmony or peace with God (Rom. 5:1). There are other terms used in Scripture of God's gracious work in Christ like redemption, justification, regeneration, and propitiation, but reconciliation seems to be the over-all term of Scripture which encompasses all the other terms as a part of what God has done through the Lord Jesus to completely remove the enmity or alienation, the whole of the barrier (sin, God's holiness, spiritual death, unrighteousness, etc.). It is this work that sets God free to justify the believing sinner by faith in Christ so there is peace with God, the change of relationship from hostility to harmony.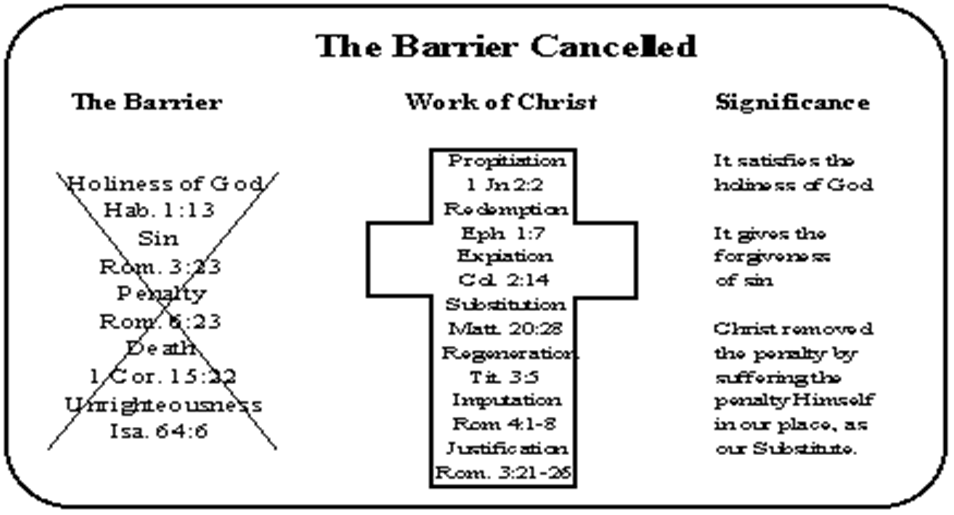 THE SOURCE OF RECONCILIATION
The source of reconciliation is God and not man as 2 Corinthians 5:18 and the Greek words mentioned above make perfectly clear. Reconciliation is a work which has its source in the love, holiness, goodness, and grace of God. It is all by His doing that we come to be in Christ Jesus, the place of peace with God (1 Cor. 1:30-31).
THE AGENT OF RECONCILIATION—WHO?
The agent of reconciliation is the Lord Jesus alone. It is He who personally died for all the world and bore our sin, the cause of alienation, in His body on the tree (Rom. 5:10-11; 2 Cor. 5:18; Col. 1:20-21; 1 Pet. 2:24).
THE OBJECT OF RECONCILIATION—WHO?
Three answers are often given to this question: God is reconciled to man, man is reconciled to God, or both are reconciled to each other. But clearly, Scripture teaches that the object of reconciliation is man and not God. God is not reconciled; He is propitiated and man is reconciled. Man is the one at enmity with God and who must be brought back into relationship with God. Ryrie writes:
"Second Corinthians 5:19 seems clear: God in Christ reconciled the world to Himself. The world of mankind is clearly the object of reconciliation. Romans 5:10 agrees by stating that we were reconciled to God, "For if when we were enemies we were reconciled to God through the death of His Son, much more, having been reconciled, we shall be saved by His life." God is the one who is active in reconciliation (2 Cor. 5:18-19), and men are said to be reconciled (Rom. 5:10; 2 Cor. 5:20); i.e., they are acted upon by God. Thus believers are said to receive reconciliation. They are recipients of a relationship of peace and harmony brought about by God."
THE INSTRUMENT (CAUSE) OF RECONCILIATION
The instrument and cause of reconciliation is the death of Jesus Christ on the cross. "God made Him to be sin for us that we might be made the righteousness of God in Him" (2 Cor. 5:21). It is the death of Jesus Christ that changes man from enmity to harmony with God (Rom. 5:10; Eph. 2:10; Col. 1:20).
THE RESULTS OF RECONCILIATION
(1) Removal of the barriers, those things which separate man from God such as sin, God's holiness, penalty of sin, spiritual death, unrighteousness (Eph. 2:14-18).
(2) Positional sanctification and a perfect standing before God (Rom. 5:1; 1 Cor. 1:2; 2 Cor. 5:17; Col. 2:10).
(3) Justification (declared righteous before God) through Christ's righteousness imputed to us (2 Cor. 5:18-21).
THE MINISTERS OF RECONCILIATION
The ministers of reconciliation are all believers in Christ. Every believer is an ambassador of Christ and a minister of reconciliation. Since Christ died for us, we are each obligated to live not for ourselves, but for the Lord and to be His representatives in a world that is alienated from God (2 Cor. 5:15-21).
THE GOAL OF RECONCILIATION
The goal of reconciliation or the ultimate purpose is imputed righteousness or justification so each believing sinner may have fellowship with God (2 Cor. 5:21). Another goal of reconciliation is transformed character, Christlikeness here on earth. This is probably the emphasis in Colossians 1:21-23 according to the context of Colossians.
The Work Accomplished by Reconciliation:
PROPITIATION
Propitiation is that part of the work of reconciliation which deals with the barrier of God's holiness, the obstacle erected or caused by man's sin. Thus, the holiness of God becomes a key part in removing the alienation or enmity against God.
Holiness is the most central and epitomizing character or attribute of God's being. Not even love or grace surpass it. In defense of this statement we should note that God is called holy more than anything else in Scripture. As an epithet to God's name "holy" is found the most. In fact, "holy" is one of the names of God. In Isaiah 57:15 we read, "For thus says the high and exalted One who lives forever, whose name is Holy …" (cf. Ex. 15:11; Ps. 30:4; 47:8; 48:1; 89:35;Lev. 11:44-45; 19:2; Isa. 5:16; Rev. 15:4; 1 Pet. 1:15-16).
(1) The Derivation: The Hebrew word for holiness or holy is qadosh which contains the basic idea of separation or apartness, and then "sacred, holy." The Greek word for holy is hagios which similarly, in its most fundamental meaning, means "separate, set apart." Hagios was used of what was separated from the secular world to a sacred and set apart place.
(2) The Definition: Negatively, holiness is that perfection in the being of God which totally separates Him from all that is evil and defiling. As we call gold pure when it is free from any dross or other metals, so the nature and actions of God are 100% free from any impurity or evil of any kind. Light is a symbol of God's holiness and so John wrote, "God is light and in Him is no (none whatsoever) darkness at all" (1 John 1:5). Positively, holiness stands for the absolute integrity and purity of the being and nature of God. It means God must always think and act in a way that is consistent with His perfect righteousness and justice, what we might call the executive and judicial branches of God's pure holiness.
(3) The Description and Application of God's Holiness in Relation to Salvation: (1) Holiness is an essential and necessary perfection of God. This means God's holiness is not maintained by an act of God's will. God does not choose to be holy because He wants to. God always thinks and acts in a holy manner because He is inherently holy. God wills holiness because He is holy and not in order to be holy. He cannot be anything else. (2) God's holiness means He can never approve of anything evil, but that He perfectly, necessarily, universally, and perpetually abhors evil. (3) God's holiness in its outworking and manifestation in history has two branches or aspects. There is the legislative side, God's perfect righteousness, and the judicial side, His perfect justice. (4) Because God is perfect righteousness, He cannot have fellowship with anything less than His own perfect righteousness (Hab. 1:13; Isa. 59:2). God is offended by man's sin. Thus, because God is also perfect justice, He must by His own character condemn, pass judgment and the penalty of death (spiritual and eternal) and separation upon the sinner who falls short of God's righteousness (Rom. 3:9-23). Therefore, propitiation is that part of God's work of reconciliation in Christ which deals with satisfying the holiness of God. Propitiation is toward God.
(4) Definition of Propitiation: Propitiation is the doctrine or truth that the person and death of Jesus Christ appeased, turned away, God's wrath, satisfied His holiness, and so met God's righteous demands that the sinner can be reconciled into God's holy presence.
(5)The Description of Propitiation and the Problem it Solves: The problem of antinomy—the contradiction of opposing laws or attributes—love and grace versus righteousness and justice. God is perfect love and grace and desires to forgive and bless the sinner. He desires to bestow His love and grace on man. But God is also perfect holiness and because of man's condition in sin, He must judge the sinner. God's own character or attributes, His holiness and love, stand in opposition to each other. God's attributes are infinite, absolute, and immutable. This means neither God's love nor His holiness can be bypassed at the expense of one over the other. All must be satisfied. In His love, God cannot accept the sinner to Himself and bypass His holiness, but neither can God in His holiness bypass His love and send the sinner to the Lake of Fire without providing a solution. All aspects of the character of God must be satisfied. Therefore, in His perfect wisdom, power, love, grace, and holiness, God provided the person and work of His own Son, the Lord Jesus, who by His life and death reconciled the conflict (antinomy) of God attributes.
God's righteousness is satisfied by the person of Christ and His life. Jesus perfectly fulfilled the law. He was without sin and lived in perfect righteousness and harmony with the will of God. At His baptism, the Father said, "this is my beloved Son in whom I am well pleased." Here God the Father verified the sinlessness of Jesus and showed that He was qualified by His person and life to begin His ministry. By the miraculous events surrounding the cross, the darkness, the shaking of the earth, the rending of the veil, and the resurrection of Christ, the Father further showed that Christ was not only qualified to be our sin bearer, but that He had successfully satisfied the holiness of God and had dealt with man's sin (1 John 2:1-2; Heb. 2:17; 1 Pet. 1:18).
God's justice, which requires judgment for sin, is likewise satisfied by the death of Christ as the substitutionary payment for our sin (Rom. 3:25-26). Christ's death redeemed and expiated man from sin and its penalty by His judicial substitutionary death—the innocent for the guilty. As our substitute He bore our penalty. This satisfied the requirements of God's justice.
God is now free to bestow His love and grace on the unworthy sinner and still act in harmony with His holiness because Jesus Christ satisfied the demands of God's holy character (Rom. 3:25-26). The cross is much more than the display of God's love; it is also the supreme display of God's absolute holiness. It shows that God could by no means still be just and accept the sinner apart from the person, life, and death of Christ.
[Also see: "Redemption" also "Expiation" also "Regeneration" also "Justification" also "Justification and Imputation"]
[For a more in-depth study see soteriology "Study Series 1 Meaning, Need and Scope of Salvation"]